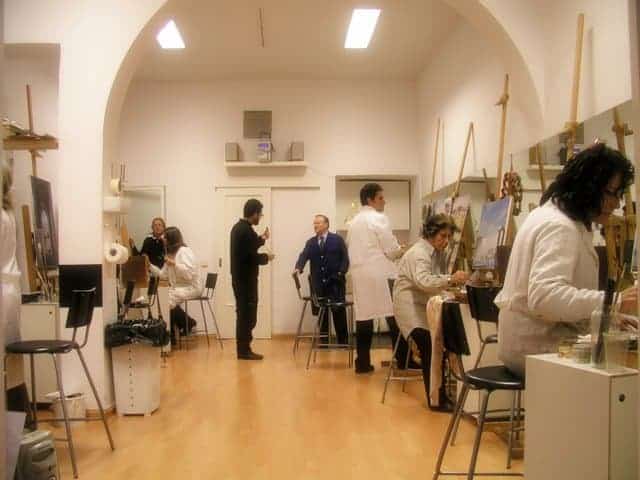 La Academia de pintura se encuentra ubicada en el centro de Madrid. Su privilegiada ubicación permite su cómodo acceso desde todos los puntos de la capital gozando de aparcamientos próximos, transporte público metro y bus a pocos pasos del taller. Nuestra infraestructura garantiza el desarrollo de la creación abarcando desde los procedimientos tradicionales hasta la aplicación de la tecnología digital, situándonos como una de las mejores ofertas de enseñanza de pintura en Madrid.
Nuestros objetivos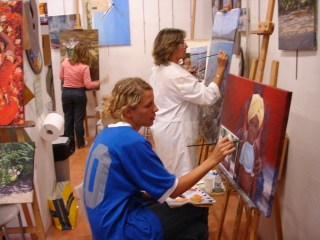 Nuestro objetivo es la calidad y para eso la enseñanza personalizada es el eje de nuestro método de enseñanza, la asimilación de la técnica y del desarrollo compositivo y conceptual de la obra, requieren de un paciente proceso donde  es absolutamente indispensable el reducido número de alumnos por sesión.
Como complemento indispensable para la formación artística, creemos que la organización de exposiciones tanto individuales como colectivas, aporta un elemento de crítica y auto-crítica indispensable para el pintor, así como una alternativa real de rendimiento económico, promoción profesional y perfeccionamiento de la propuesta individual. Respaldamos con toda nuestra experiencia las gestiones encaminadas a la realización de muestras de gran calidad.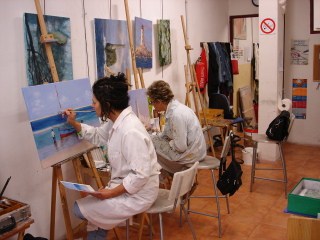 Como acción cultural, estamos preparando un plan de becas de formación para jóvenes con condiciones excepcionales. De esta manera esperamos contribuir positivamente con el clima cultural y artístico madrileño.
Inscríbete
[contact-form-7 id="2064″ title="Contacto DV Madrid"]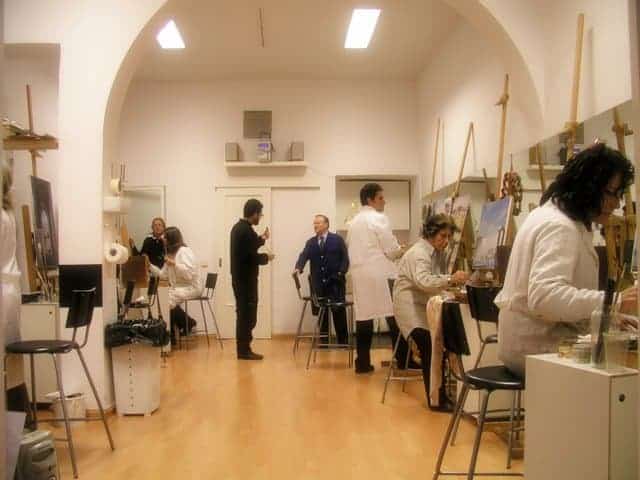 The academy is housed in a privileged location in the centre of Madrid, easily reached from any part of the city. Close by you will find convenient public transport by bus and metro or public parking for those who choose to use their car.
The studio es equipped to enable a broad range of creative techniques ranging from the most traditional to those involving the use of contemporary digital technology. As such, the training we offer is among the most complete and varied available in Madrid.
Our objetives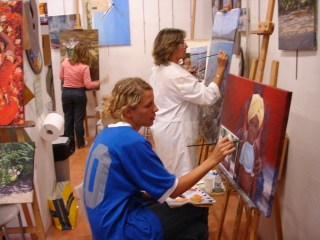 Our objective is to achieve and maintain the highest possible standards.
For this reason a personalized training is at the heart of our methodology. In our experience, the understanding of techniques and the appreciation of concepts essential to painting, requires a patient process in which it is crucial to work with a small number of students in each session.
As an important extension to the artistic training we offer, we believe that the organization of individual o group exhibitions introduces an important critical element, indispensable for aspiring painters. Furthermore such exhibitions contribute to a professionalization of the artistic endeavor as well as offering a potential for professional promotion and economic return. We support with all our energy and experience the organization  of exhibitions of the highest possible quality.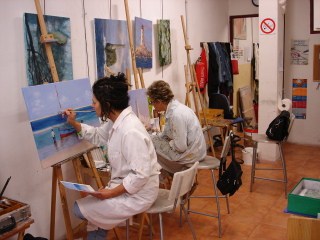 In addition to our other activities we are preparing a series of training grants for young people in exceptional circumstances. With this initiative we hope to make a positive contribution to Madrid's cultural and artistic life.
Inscription
[contact-form-7 id="2064″ title="Contacto DV Madrid"]